I didn't set out to make a copycat version of the Trim Healthy Mama Baking Blend. I love their mix… in most things I have tried it in. If you prefer something ready made, I have their great blend for purchase! Be sure to take advantage of my flat rate shipping and stock up on other goodies, too!
https://lotsalittlelambs.com/product/baking-blend/
But, it is just more pricey than oat fiber or coconut flour. So, I always tried to use those more, saving the THM baking blend for special recipes. So, when developing my Cinnamon Bun Cake:
And my Cinnamon Buns:
I measured and mixed several different flours when creating them. The only difference in the buns over the cake was the addition of almond flour. It didn't change the batter texture, but it gave a sweet flavor and a nicer crumb to them. For those that are nut free, I believe you could leave out the almond flour and this should still work well!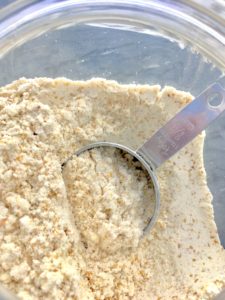 First, let's talk coconut flour! I have always used the coconut flour from Bob's Red Mill. And I was very happy with it. I order it in a 25 pound bag, but I ran out eventually. And… I bought some from Wal-Mart! I hated it! Course, heavy… and about twice the amount of fat as Bob's Red Mill. Using the right coconut flour makes a big difference in this mix and the baked goods you make from it. ?
Next, what fuel is it? I am not sure. I am going to use it as a light S. I think it could squeeze by as a FP, because oat fiber and collagen have no fats or carbs, coconut flour and flax are low, but then there's the almond meal. (You could definitely decrease or leave out the almond flour) Not much, and I think you could squeeze by in a FP, especially if you only used a 1/4 cup of the mix, but because I hate to crunch numbers… I'll keep it to S or not tell you if I use it for FP! ??
Low Carb Baking Mix
1 cup oat fiber
1 cup coconut flour
1/2 cup golden flax meal
1/2 cup collagen
1/2 cup almond meal
2 Tablespoons glucomannan
Instructions:
Mix all together well, and store in a jar or container.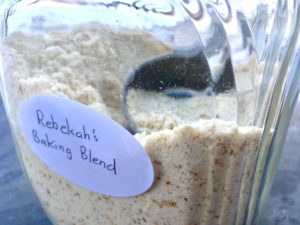 I was surprised how well it subs for the THM Baking Blend. It seems to sub out equally. I have made the Nuke Queen's Bread with success in the oven.
Here are the chocolate chip muffins from the Trim Healthy Cookbook. Can you tell which is made with the THM blend and which is mine? I can't either.