Low carb option for a corn tortilla! This is a variation of my first wrap recipe:
It uses a little masa harina flour, but just a little for flavor. The recipe makes 4 corn tortillas. Which I figured is one serving. If you are following Trim healthy mama, I would use these in an S.
I'm hoping my friend Susanna and I can get together and make her yummy authentic enchiladas, so we can share that recipe with you next! Susanna was born and raised in Mexico! And her food is yummy!
Here is the plate she served me at her house a week or so ago.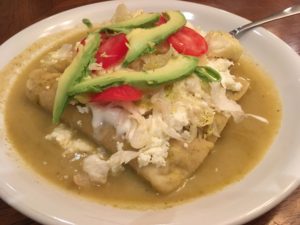 She used regular corn tortillas, but I'm hoping we can sub mine! ?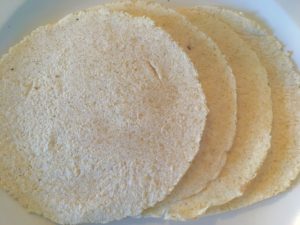 Corn Tortillas
Ingredients:
Dry:
3 Tablespoons oat fiber
3 Tablespoons coconut flour
1 Tablespoon Masa Harina (I used Bob's Red Mill)
1 teaspoon glucomannan
1/2 teaspoon psyllium husks
1/4 teaspoon salt
Wet Ingredients:
1/2 cup water
1 teaspoon rice vinegar
Instructions:
Mix the dry ingredients together. Mix the wet ingredients together and then add them to the dry ingredients. With your hands make a ball of dough and slightly flatten it into a round. Divide it into 4 pieces. Pat each into a round and then press each piece on a tortilla press between a plastic liner. Carefully pull back the top layer. Lay it on your hand and pull off the other layer. Transfer to a skillet heated on about the lowest temperature on the stove. Cook for about 1-2 minutes on each side. I used a cast iron griddle, but a non stick skillet would probably work, too.
What can you make with these and how would you use them?