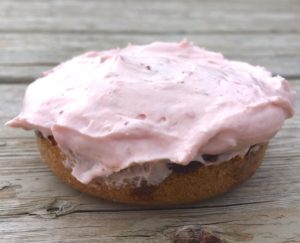 Cinnamon Buns
This is a twist of my cinnamon bun cake. I have added almond meal to the flour mix. It seems to give it a sweeter flavor and nice crumb. But, it is totally optional, and can just be omitted if you need to be nut free. You don't need to make any other adjustments if you leave it out!
I have iced this with a cream cheese icing, which I use my homemade strawberry jam in! My jam is available for sale!
Alternately, you can ice these with coconut cream, as I did my cake, especially if you need a dairy free version. (I also sell coconut cream in my store)!
I use 8 bun size small glass round baking dishes, ramekins, I believe they are called. I will post the regular, large recipe first, then a smaller one, which will make just 2 buns.
Cinnamon Buns
Wet Ingredients:
4 eggs
6 Tablespoons coconut oil
3 Tablespoons xylitol
3 Tablespoons Pyure
2 Tablespoons vanilla
6 Tablespoons water
Dry Ingredients:
4 Tablespoons oat fiber
4 Tablespoons coconut flour
2 Tablespoons golden flax meal
2 Tablespoons collagen
2 Tablespoons almond meal
1 1/2 teaspoons glucomannan
1/4 teaspoon salt
2 teaspoon baking powder
Sprinkle:
1 Tablespoon Pyure
1 Tablespoon Xylitol
1 Tablespoon cinnamon
Instructions:
Mix wet ingredients in vitamix.
Mix dry ingredients in separate bowl. Mix the wet ingredients into the dry ingredients. Mix up the sprinkle. Spray 8 ramekins with coconut oil. Spoon a little batter into each ramekin, then sprinkle on some of the sprinkle. Repeat in uneven layers till all the batter and sprinkle are used. Bake at 350 degrees for about 20 minutes or until done. Let cool before icing, if you use the cream cheese icing. If you are icing with the coconut cream, go ahead and ice warm.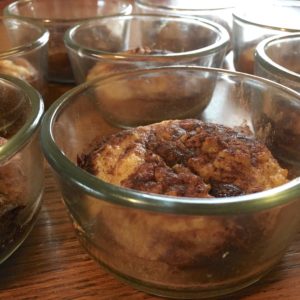 Cream cheese icing:
Ingredients:
8 ounces Neufchâtel cheese
1/2 jar Lotsa Little Lambs sugar free strawberry jam.
1/8 teaspoon THM stevia extract
Instructions:
Beat cream cheese till it is smooth. Add the jam and stevia and beat again. Spread on the cooled rolls.
You can leave the rolls in the ramekins, or remove them. I have ones with matching lids, so I can just store them right in the ramekins after baking, cooling and icing!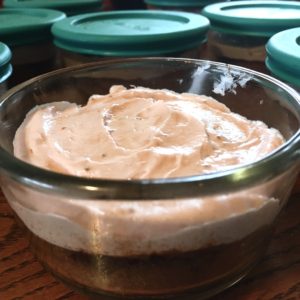 Here is a smaller recipe.
Cinnamon Buns
Wet Ingredients:
1 egg
1 1/2 Tablespoons coconut oil
1 1/2 Tablespoons Pyure (or mix with xylitol)
1/2 Tablespoon vanilla
1 1/2 Tablespoons water
Dry Ingredients:
1 Tablespoon oat fiber
1 Tablespoon coconut flour
1/2 Tablespoon collagen
1/2 Tablespoon golden flax meal
1/2 Tablespoon almond meal (optional)
3/8 teaspoon glucomannan
Pinch of salt
1/2 teaspoon baking powder
Sprinkle:
1/2 Tablespoon Pyure (or mix with xylitol)
1 scant teaspoon cinnamon
Icing:
2 ounces cream cheese
2 Tablespoons Lotsa Little Lambs strawberry jam
1 doonk THM stevia
Instructions:
As above, in large recipe. But, only divide batter into 2 ramekins, instead of into 8!