I will give you my huge recipe first, which feeds my family of 13! Although, if you were making these just for yourself, and trying to stay within the carb limits of THM…it would serve around 30! 🙂 My kids have pretty healthy appetites! Following the huge recipe, are recipe amounts for 8 Trim Healthy Mama size servings, and then, I've even included the single serve recipe amounts! 🙂
Gluten Free Pancakes (large family recipe)
Dry:
6 cups oat flour (I grind rolled oats in the vitamix!)
1 cup coconut flour
1 cup quinoa flour (I also grind this in my vitamix)
1 cup garbanzo (chickpea) flour
1/4 cup baking powder
1 teaspoon salt
1/2 teaspoon THM stevia extract
Wet:
24 ounces or 3 cups Greek yogurt
3 cups egg whites
6-8 cups almond milk or water (start with the smaller amount, especially if using water)
Instructions:
Combine the dry ingredients,and mix.
(Now's a good time to begin to heat your skillets. I use a medium low heat.. and adjust each skillet later as needed.)
Add the wet ingredients. Whisk well.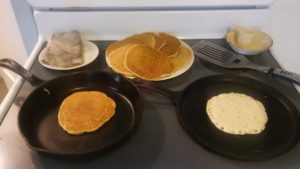 Lightly spray your heated skillets (I use cast iron), with coconut oil. Or, if you don't like using a spray, just get a small rag greasy with some coconut oil, and rub the skillets with it to lightly grease them.
I like to use a measuring scoop to dip the pancake batter. You can use any size for your family, but 1/4 to 1/3 cup scoops make a decent pancake for those following THM. (And you can have 2).
Pour (or scoop) some pancake batter into your skillet, fry till bubbly. Turn and fry the other side. Repeat till all the batter is gone! This will take awhile for this size recipe!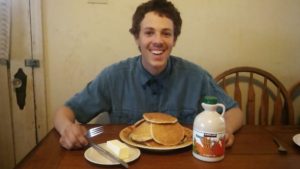 He may not be a Trim Healthy Mama! But he will eat his Trim Healthy Mama's pancakes!
Ingredients for smaller family:
(Or 8 THM servings)
Dry:
1 1/2 cups oat flour
1/4 cup coconut flour
1/4 cup quinoa flour
1/4 cup garbanzo flour
1 Tablespoon baking powder
1/4 teaspoon salt
1/8 teaspoon THM stevia extract
WET:
3/4 cup Greek yogurt
3/4 cup egg whites
1 1/2 – 2 cups almond milk or water
Single serve:
Dry:
3 Tablespoons oat flour
1/2 Tablespoon coconut flour
1/2 Tablespoon quinoa flour
1/2 Tablespoon garbanzo flour
1/4 rounded teaspoon baking powder (about 1/3 teaspoon)
Pinch of salt
Doonk of THM stevia extract
Wet:
1 1/2 Tablespoons Greek yogurt
1 1/2 Tablespoons egg whites
3-4 Tablespoons almond milk or water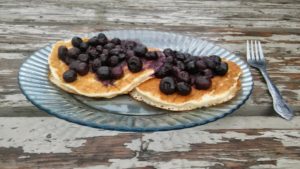 This is the single serve recipe. And pictured is my most often way of eating them. I heat up frozen blueberries in a little water. (Here I used 1 cup blueberries and 1/2 cup water). You could also sweeten and thicken them. But I enjoy them runny, and it is easy. I like how the blueberry juice soaks into the pancakes! 🙂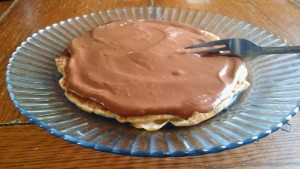 Another favorite way to eat pancakes! It makes a good snack topped with my chocolate peanut butter sauce! lotsalittlelambs.com/chocolate-peanut-butter-sauce/