Made with rice and riced cauliflower, you don't notice the cauliflower, but it seems like you get more rice! This serves about 12. If you are following Trim Healthy Mama, this is an E, and your serving size is about 2 cups, or 1/12 of the recipe. If you would like a larger serving, you can use more meat, or an extra head of riced cauliflower, or both! 🙂
Yellow Curry Rice
2 cups long grain brown rice
4 cups of water
3 pounds lean ground turkey or deer meat
1 huge onion, or 2 small onions
28 ounces frozen pepper strips
3 Tablespoons coconut oil
1 medium/large head cauliflower, riced
4 cups of corn
Yellow curry powder
Salt, and red and black pepper to taste
Instructions:
Combine the water and long grain rice in a pan, and bring to a boil.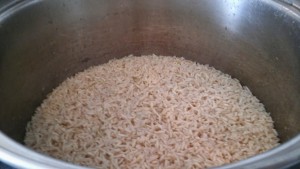 Turn to low and simmer till holes appear in the rice, and there is still a little bit of water left.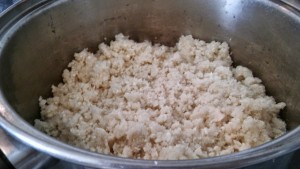 Add the riced cauliflower on top of the mostly cooked rice. (I make the riced cauliflower by pulsing by batches in my vitamix.) Cover with a lid and let set for about 30 minutes to finish cooking the rice and to steam the cauliflower.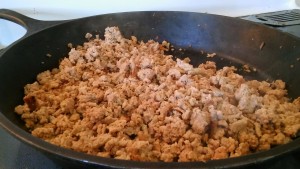 While the rice is cooking, brown the meat in a large skillet.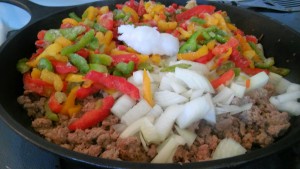 Add the coconut oil, chopped onion and frozen peppers.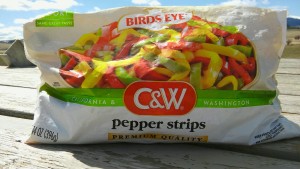 (Here are the frozen peppers I used).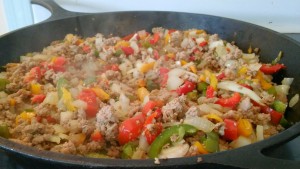 Cook till the onions and peppers are soft.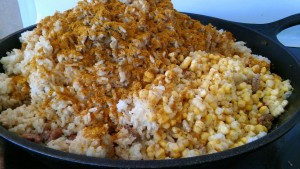 Add the corn, cauliflower and rice, and generously sprinkle with curry.
Add salt and black and/or red pepper to taste. Taste and adjust spices.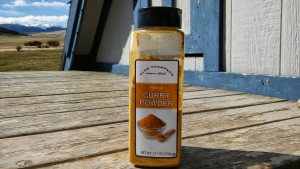 Here is the curry powder I used.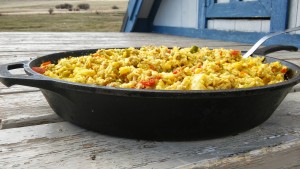 Here is another variation, that cuts out the corn and rice, to fit in a THM S. It is my least favorite of the 3. But, the kids seemed to like it. You really taste the cauliflower, so if you are not a cauliflower fan, this may not be for you.
Use ground beef if desired. I used 5 pounds.
Replace rice with riced cauliflower. I used 2 heads.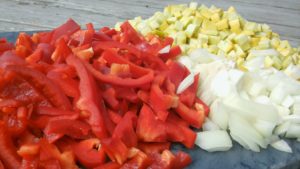 Replace corn with diced yellow squash. I used 4 red bell peppers, quartered and sliced, instead of the frozen peppers. (I got them on sale!).
Drizzle extra olive oil over when adding curry powder and spices, if desired.
Instructions: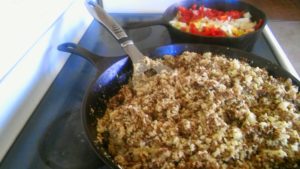 Similar to above, but I sauteed the cauliflower with the beef after it was cooked. And sauteed the veggies in a separate skillet. Then added everything all together with the spices.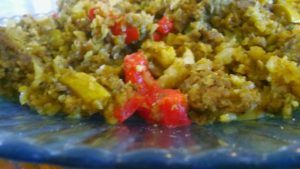 Finally, here is a third variation! My original way of making this would have been off plan, according to THM, but still a good healthy meal for kids or those not needing to watch their carbs/weight. And while I can make this for my kids, I can at the same time make my smaller, single serve counterpart, that can be a FP or an E.
Cook a pan of rice. (For kids)
Boil 2 packets of konjac rice. (For me).
Saute onion(s), and 1-4 peppers in small amount of coconut oil. Reserve 1/2 cup sauteed veggies for mine. The rest is for the kids.
In a large skillet fry several pounds of ground meat. (For kids).
In a small skillet, cook 1 chicken breast in water. Then turn into ground meat using vitamix. (For me).
In a big skillet for kids: Combine hamburger, sauteed veggies, corn, and enough rice to fill pan. (I often cook a big pot, use what I need, and have the rest to feed them for breakfast, or whenever the next day..) Add yellow curry, salt and pepper(s) to taste.
In a smaller skillet, combine the ground chicken meat, reserved sauteed veggies, boiled and drained konjac rice, 1/2 cup of rice, about 1/4 cup of corn, and yellow curry, salt and black pepper and or red pepper.
That's it! Hope you enjoy!