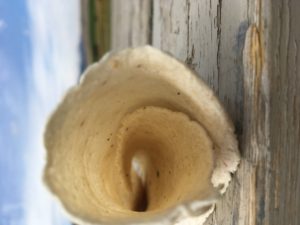 Wraps!
These are simple, hold together well, are flexible, and are so nice to have ready made in the fridge to fill however you like. They make a great grab and go meal or snack at anytime!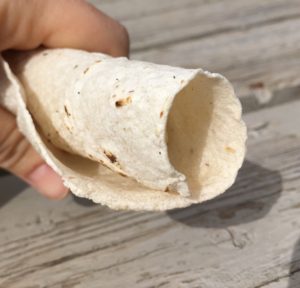 Each recipe makes one wrap. I just have each ingredient sitting on my work space, to the side, and mix and roll one at a time. I try to get the next one ready while the last is cooking.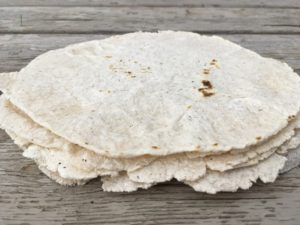 Oat Fiber Wrap
(This would be a FP on THM)
2 Tablespoons oat fiber
1 teaspoon glucomannan
1/2 teaspoon psyllium husk (update: or powder! I almost prefer ground psyllium in these, now).
Pinch of salt
4 Tablespoons water
Directions:
Mix dry ingredients.
Add water and mix. Will quickly set up. Form into a ball and flatten. Roll between 2 sheets of Saran Wrap till thin and flat. Cook on a heated dry cast iron griddle. (Something else may work, but this is what I used and it worked well.) Cook on one side till dry enough to flip, then turn and cook on the other side. That's it! I like to make about a dozen, and store them in the fridge in a gallon size ziplock bag.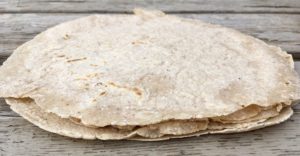 Light Rye Wrap
(These have about 5 carbs each)
Use above recipe but ADD 1 Tablespoon rye flour to the above recipe. Below, is how I used these in an E meal. With beans as a carb source.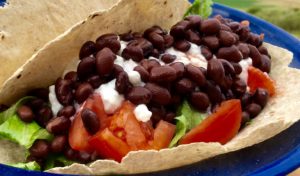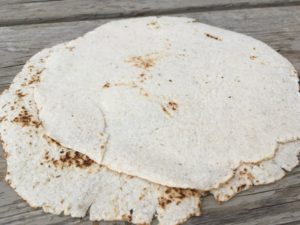 Coconut Flour Wraps
Just replace the oat fiber with 2 Tablespoons of coconut flour! And follow the directions in the first recipe.
Edit: Thought I'd add a note. Maybe I can add a video later, too. I roll these out really thin. They are bigger than a corn tortilla, more like a wheat burrito. I feel like using ground psyllium, instead of the whole husk, makes the texture even better.