I served this recipe in my wraps! I'll link the wrap recipe first, in case you would like to use it. It will take six wraps for this recipe. I used the coconut flour version.
The wraps are easy, and can be made while the steak and veggies are cooking.
This recipe fills six wraps. I found two of them to be a nice serving size, so I will consider that this serves three, although you can eat more or less, of course.
Steak and Pepper Burritos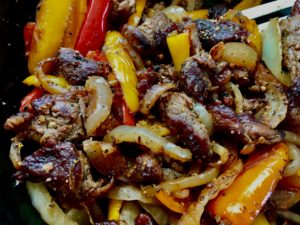 Ingredients:
1/4 cup oil
2-3 cups of steak, cut into pieces (I used venison, but beef would also be fine.)
12 mini peppers, topped, seeded, and quartered lengthwise
1 onion, sliced into rings
4-6 cloves garlic, sliced
2 Tablespoons Montreal Steak seasoning
I got the seasoning from Costco, it's basically salt and cracked pepper plus a few other spices. Here is what the container looks like.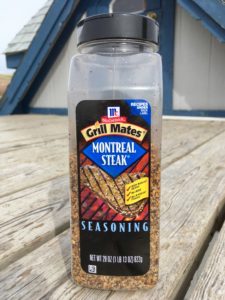 Instructions:
Heat the oil till it is hot, then add the meat. Brown on the bottom, then stir occasionally till they are browned on most sides. Add the peppers, onions, garlic and Montreal Steak Seasoning and continue sautéing till the onions and peppers are soft.
I decided to freeze four of these. First, I wrapped them in Saran. I placed a piece of Saran across a plate, put the burrito in the middle of it, then folded the bottom end of the Saran up over the burrito, and wrapped the Saran around the sides.
Here is what they looked like at this stage.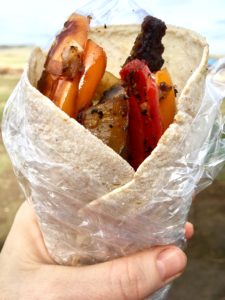 I figured this will be the easiest way to hold them to eat them after they are thawed. I don't have a microwave, but if you were going to thaw them in a microwave, I think you would want to remove the Saran first. You could probably then thaw them in the bag, if you made sure the ziplock seal was partially open.
Here are the four ready to freeze!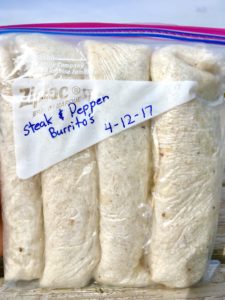 And the other two were my lunch!