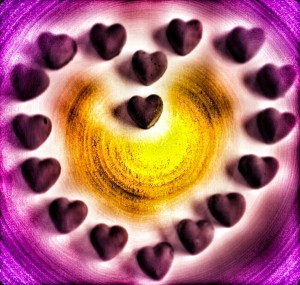 I recently came up with this great recipe (At least I think it's great! 🙂 ), when I discovered that I could make coconut cream myself, by just grinding dried coconut in the blender! It really uses 'from scratch' ingredients, which I think is so neat! I mean, even cacao nibs, which I have recently fallen in love with, and which are about as close as you can get to the 'real thing'! You do need a really strong 'blender'. My vitamix does the job, but I think perhaps a strong food processor could be even better? I have not tried it in a food processor as my last one has deceased… (My donut recipe did it in…I gotta get another!!) But I do not think you would want to try this recipe in a regular blender.
Cacao Hearts
14 ounces coconut
1/3 cup cacao nibs
2 Tablespoons Pyure (erythritol, stevia blend), or use another sweetener if you prefer.
2 teaspoons vanilla
1/8 teaspoon salt (I like Real Salt)
Combine all ingredients in vitamix.
Blend till it is well broken down, scrape sides, and blend again. Press dough into molds. Set in the freezer for 15 minutes or until they have hardened. Remove from molds and refrigerate.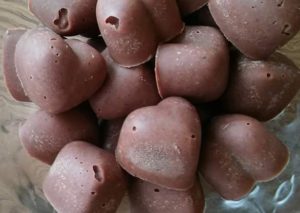 I'm also including a short video of making this recipe!