I'd like to share my stuffed pepper recipe with you!
If you make it as it is written, and you are following THM, this would be an E type meal. Which means, for those of you not familiar with THM, that this meal type is low on fat, and has moderate carbs.
To keep the carbs within the E limits, you will want to stick with two peppers. If you know that will not be enough, you may want to have other veggies, more protein, or a shake to fill up on. Alternately, you could halve the rice in the recipe, and increase the meat by a pound or two. Then you could have four peppers! If you can eat that much! 🙂
Stuffed peppers:
20 green peppers
2 cups brown rice
3 cans chicken broth
1 teaspoon tumeric
2 Tablespoons marjoram or parsley
2 Tablespoons coconut oil
2 pounds lean ground meat (I used turkey, but deer meat is good, too. You can also use half deer and half turkey).
1 huge onion, or 2 small onions, chopped
6 ounces tomato paste
5 Roma tomatoes
1-2 Tablespoons salt, or to taste
1 Tablespoon black pepper, or to taste
Instructions:
In a medium size pot combine the rice, chicken broth, tumeric and marjoram or parsley. Bring to a boil, then turn down on medium low and cover to finish cooking.
Now, it's time to prepare the peppers.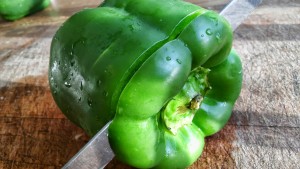 First, slice off the tops of the peppers. Save the tops.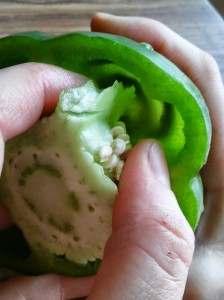 Reach inside the peppers. Twist and pull the seeds and membranes out.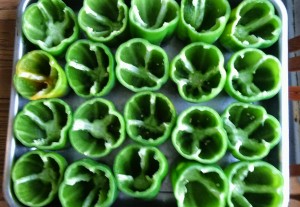 Place the peppers in a large baking pan. I have a huge one that perfectly fits 20 peppers! You may have to use more than one pan, if you do not have one large enough. Add one cup of water to the bottom of the pan and stick in the oven to bake for about 1/2 hour at 350 degrees.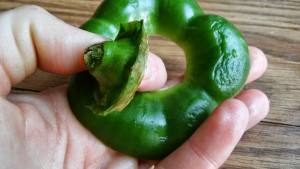 Pop the stem out of the top of the peppers. If they wont pop out, cut the stem away. Discard the stems, and get ready to use the tops, next.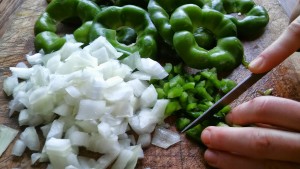 Chop the onion, and mince the pepper tops.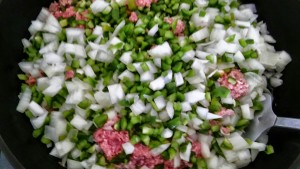 In a huge skillet (mine is a cast iron one that covers two burners), put the two Tablespoons of coconut oil, the lean ground meat, and your chopped onions and pepper tops.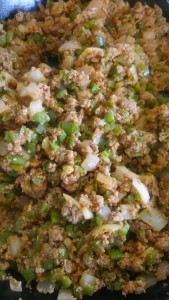 When the meat and veggies are cooked through, add the 6 ounce can of tomato paste and mix well.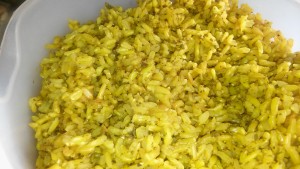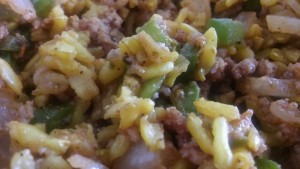 Then stir in the prepared, cooked rice, and the salt and pepper. See how the colors contrast? The rice should stay yellow and not pick up the color of the tomato paste. 🙂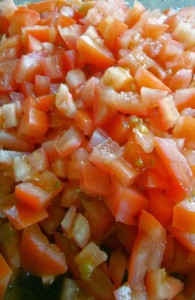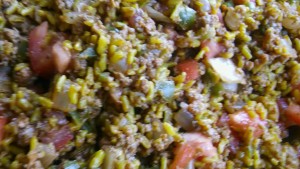 Dice the Roma tomatoes and stir into the rice.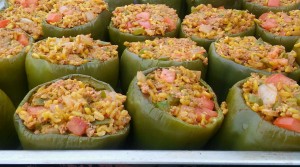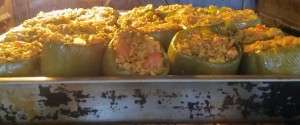 Stuff the peppers, and stick them back into a 350 degree oven, untill they are nice and hot. 20 minutes to one half hour should be good!
I made these again last night. The kids and I ate real quick before leaving to go watch a video at our church. I was happy to find my husband home, enjoying a couple of peppers when we got back! I did, however, have a complaint from my 18 year old son. He only got 1 last night as we were in such a hurry. His sister took the two leftover peppers to work.. (Not that he minded that.) It seems like I may need to make some more, soon! 🙂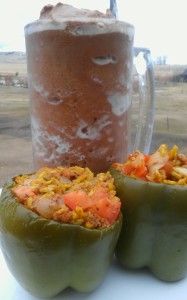 Here's how I ate mine last night! (Cause just two peppers aren't enough for me 🙂 )