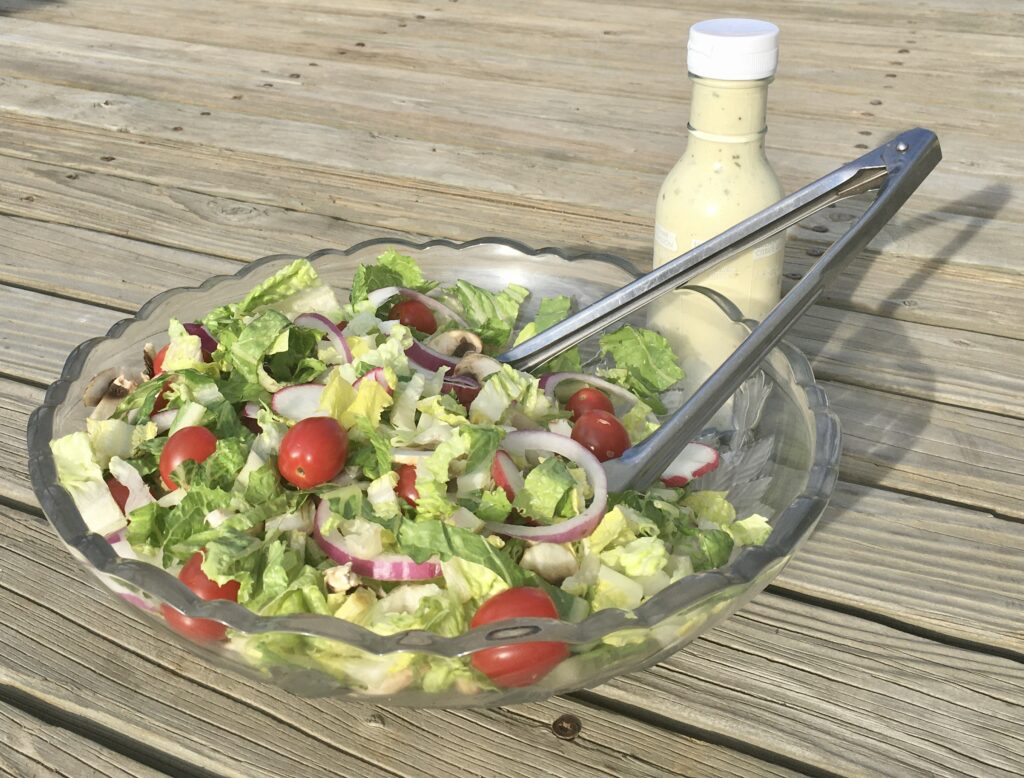 This is my go to for potlucks, or when I just need a quick side salad! It's simple, and fresh. I have been making this for years. I chose the ingredients for simplicity. When I first made this, we were visiting in Montana, and staying in the 'school house' of our Amish friends. With no electricity, and not much way to cook, I wanted something easy to contribute as they invited us up quite frequently for supper. They loved it, and my husband loved it.
My husband was able to pick up the ingredients on his way home from work, and I could quickly throw this together before heading down for supper.
You may just serve this with ranch, as I did then, or you may make my simple summer salad dressing, which is a newer creation.
This is especially handy for those times when you get invited somewhere with not much time to plan. I grab my big stainless steel salad bowl, and a knife and go out the door. A quick stop at the grocery store for ingredients, and 10 minutes of prep when I get there, and my day just got easier.
The salad is a Fuel Pull if following Trim Healthy Mama. Adding Ranch or my dressing brings it to an S.
Simple Summer Salad
• 4 heads Lettuce. Or get 2 containers of mixed washed lettuce leaves and greens for greater ease.
• I pound mushrooms, sliced. Buy already sliced if making on the run.
• 2 boxes cherry tomatoes.
• 1 bag radishes, sliced.
• 1 onion, red or white, sliced into rings
Instructions
Add all ingredients to pan. Mix.
Serving suggestion:
Grab a bottle of ranch if in a hurry. Or make my Simple Summer Sakad dressing, which is dairy free and reminiscent of a lemon ranch dressing.