My husband's all time favorite drink! (Yes, I think he even likes this better than Dr. Pepper! ?) Peppermint tea is easy to make, but it goes way too fast! I make two gallons at a time, as that is about what it takes for a drink, for one meal, for my family. The recipe here is for 1 gallon.
Here is the tea I use. You can get this from many grocery or health food stores. Or if you'd like to support my small business, you can order it from me. ? Make sure to take advantage of my flat rate shipping and stock up on some other things while you are at it! Like the stevia for sweetening this!
https://lotsalittlelambs.com/product/peppermint-tea-40-bag-celestial-seasonings/
Peppermint tea
About 2 cups of water
7 tea bags
3/4 teaspoon THM stevia extract
More water to equal a gallon
Instructions:
Bring a couple quarts of water to a boil. Add the tea bags. Turn off the heat and cover. Let set for at least 1/2 hour. Remove and squeeze out the tea bags. Be careful not to break them! I do this by putting them into a cup and pressing them with a spoon. Pour the tea into a gallon size jar or pitcher. Add the stevia, then add water to fill the gallon. Chill.
We like to serve this over ice.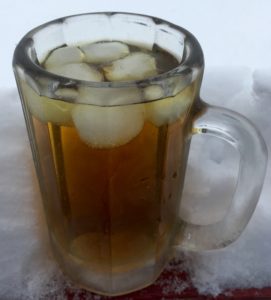 I used to make this with 1 cup of loose, dried peppermint leaves. I find that these tea bags seem to be stronger, though.
I also used to, and sometimes still do, sweeten this with honey for my husband and kids. It takes a cup for a gallon.