This is the icing I use on my carrot cake. The fat grams, by my figuring, are still under 5 grams per serving, if divided into 12 servings. Since I have no added fat in my carrot cake, this fits perfectly into an E!
Low Fat Cream Cheese Icing
1 cup lowfat cottage cheese
1 cup 0 percent Greek yogurt, or 1 more cup of lowfat cottage cheese, instead of the yogurt
1 8 ounce block 1/3 less fat Neufchatel cheese
1 Tablespoon beef gelatin, softened in 1/4 cup boiling water
1 Tablespoon vanilla
2 Tablespoons Pyure and 3 Tablespoons xylitol,
OR 3 Tablespoons Pyure and 1/8 – 1/4 teaspoon THM stevia extract
1/2 teaspoon xanthan gum, optional (this makes a thicker icing, but a thinner, creamier one without it)
Instructions: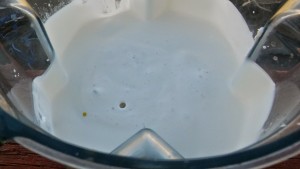 Put all the ingredients except the xanthan gum, into your blender and blend well. Add the xanthan and blend again, if you are using it.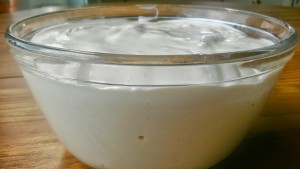 Pour into a bowl and chill. Or pour directly onto cooled cake. You may need to slightly chill the icing first, especially if not using xanthan. But don't let it set up too much to prevent lumps and to keep the icing smooth.