This is a yummy,warm for your tummy, full of chicken and veggies type of soup. Flavorful, and satisfying!
Hearty Chicken Soup
1 whole chicken (5-6 pounds)
1/2 to 1 whole bunch celery, sliced
3 carrots, thinly sliced
2 onions, chopped
1-2 Tbs minced ginger, or 1-2 teaspoons ginger powder
1 whole bulb (about 13-20 cloves) of garlic, minced
1-2 packages frozen cauliflower (or 1 fresh cauliflower, chopped)
3 cans full fat coconut milk
4 teaspoons xanthum gum
2 Tablespoons trim boulion mix (page 491 of trim healthy mama cookbook)
Salt
Black pepper
Red pepper flakes
Instructions: Cover the chicken with water and boil just till tender and cooked through. Remove and cool the chicken, reserving the broth. Then, pick off all the meat discarding the skin and etc. If you wish, return the bones to the broth and simmer several more hours or even all night, replenishing the water as necessary. If you decide to do this, be sure to refrigerate the chicken. I prefer not to leave the chicken on the bones for this longer boiling time, becaused it will become mushy and stringy.
Add the chopped veggies, except for the cauliflower, into the chicken broth. Add the ginger and garlic, too. (All bones and junk should first be removed). Simmer till the veggies are tender.
Add the cauliflower. Make the white sauce: Put the 3 cans of full fat coconut milk into your blender. Blend, adding the 4 teaspoons of xanthum gum. Add this to the pot of soup as well.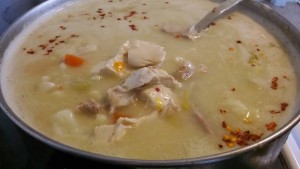 Add the spices: 2 Tablespoons of trim boullion mix. And the salt, black pepper and red pepper flakes to taste.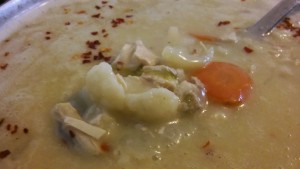 Simmer for a few minutes, till all is hot and cooked through, and the spices release their flavors.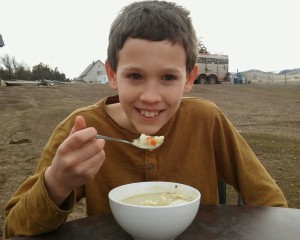 My kids love this soup, too!
It is also very good rewarmed the next day! 🙂