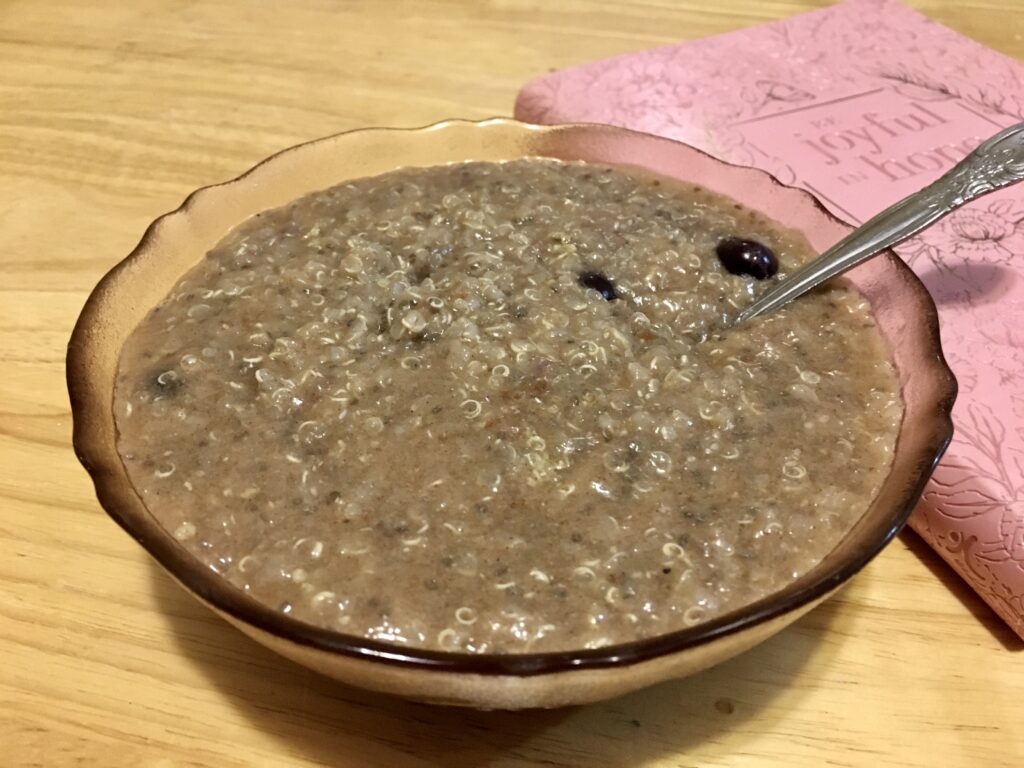 Why are these grains smart? Well, because while they do contain a bit of grain, the bulk is added fiber and blood sugar stabilizing ingredients. Fill up full, without spiking your blood sugar! By my estimate, if making with quinoa as pictured here, it contains about 17.5 carbs! (That includes the berries!)
Inspired by some of my previous Smart Foods Recipes, and hearing of Pearl Barrett's (of THM) bulked up porridges.

While trying to heal my adrenals, but keep my blood sugar or prediabetes at bay, I am focusing on something I will call a Light S Helper, or Fuel Pullish Crossover! 😇 (Is that a thing? I love how we can make the Trim Healthy Mama plan work for us.)

If following Trim Healthy Mama, this will be a pulled back E. If you add the MCT oil, it may be a borderline, very light S helper (because of the chia). There's not a lot of wiggle room to add almond milk or other fat without it being a more true S helper. Adding more carb, but keeping the fat back, would bring you into full E territory.
Smart Grains
1 1/2 to 2 cups of water
2 – 3 Tbs, uncooked quinoa, steel cut oats, or other grains
2 Tablespoons oat fiber
1 Tablespoon psyllium flakes
1 Tablespoon collagen
1 Tablespoon creamy dreamy hemp protein (by Trim Healthy Mama)
1 Tablespoon black chia seeds
1 teaspoon cinnamon
1 teaspoon MCT oil
1/2 teaspoon gluccomannan
1/8 teaspoon monk fruit extract
1/4 cup fresh or frozen blueberries, or other berries
Instructions:
Bring water and grains to a boil, turn down and cook on low till nice and soft. Your grains will still be very soupy. While grains are cooking, mix all the other ingredients together besides the berries. Measure berries. Once the grain is thouroughly cooked, whisk in the mixed dry ingredients, and stir to thicken. Add berries and gently turn. Remove from heat and let thicken a few minutes more if desired.

Using a small crockpot overnight to cook your grains may help you to be able to get your breakfast more quickly.
Sprouting whole grains first could also be an even more blood sugar friendly option.
I have kept this recipe dairy free and sweetener free (besides the monk extract) but you could add Whey Protein Powder, serve with Greek yogurt or keifer and add your desired sweetener if you can handle those.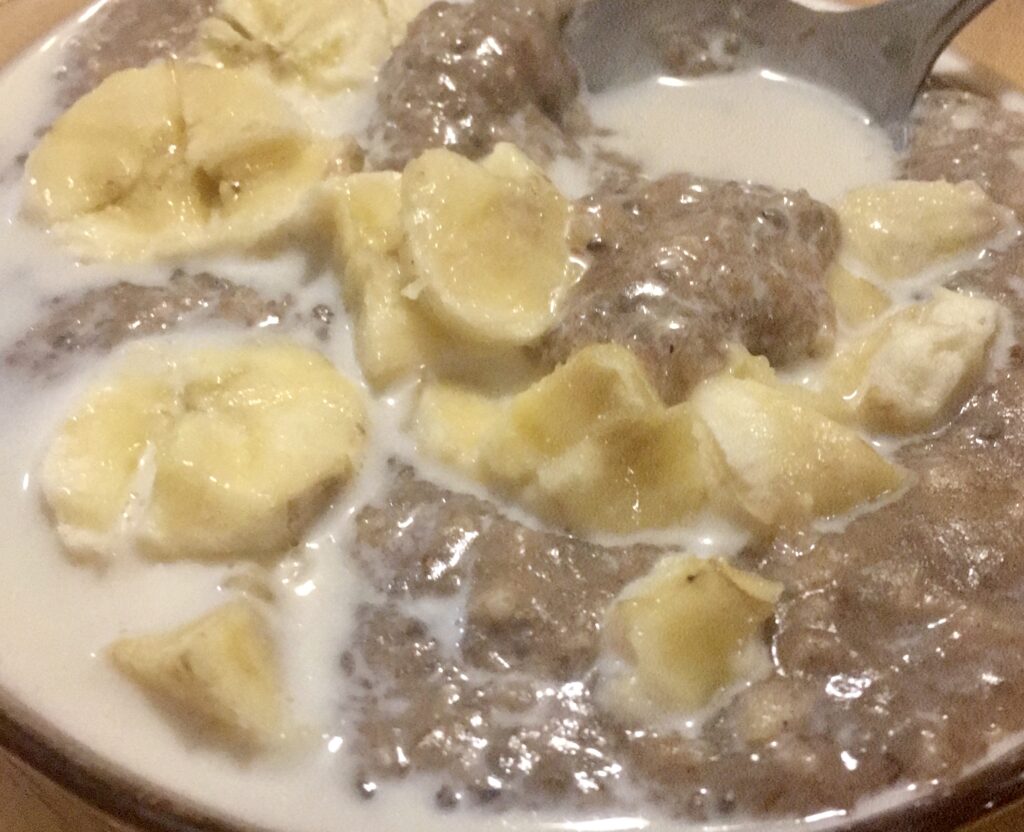 (I used three tablespoons rolled oats, the less water amount, omitted the berries, and added 1/2 banana, here.)